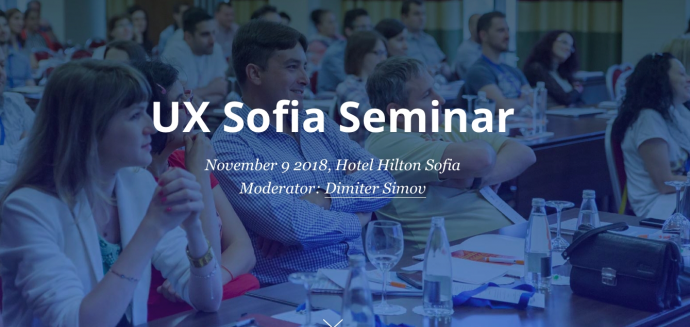 Дата:
9
ноември 2018, петък
Час:
09:00 - 17:30
Достъп:
Такса участие
За събитието
9:00–9:30
Registration and coffee
9:30–10:30
Keynote: Smart Responsive Interface Design Patterns
Vitaly Friedman
Smashing Magazine's Co-Founder, Editor, Writer, Speaker
You're a smart cookie. If someone asks you to build a responsive accordion, you'll figure it out. The same goes for a table. Or a calendar. Or, God forbid, a multi-level-mega-drop-down. But how would you go around slightly more complicated components?
What if you had to build a sophisticated car configurator with a real-time updated 3D view? What about an advanced mortgage calculator? How about a feature comparison table, a music festival schedule, an election map, an airfare booking and check-in, a live world football championship leaderboard and a theatre map seat selection? In this session, we'll take a microscopic examination of common interface components and problems appearing in responsive user interfaces.
We'll cover them all: both from the design and from the development perspective — with a dash of . Keep in mind: you won't be able to unsee the things you'll see in this session. Yes, it's going to be dirty, tricky and horribly annoying at times. You'll leave with a toolbox of practical techniques that you'll be able to apply to your work right away. And potentially some tips for saving money on airfare, too!
10:30–11:30
Mobile UX case studies – Mistakes, that most of the app designers make
Csaba Házi
CEO and UX Expert at Webabstract. Best-selling author of Seven Step UX – The Cookbook for Creating Great Products
CI'll walk you through the top mistakes most designers make when designing a mobile app. Case studies and practical how to and how NOT to do examples.
Even though it's 2017 and it seems that everybody is talking about mobile, and how 'mobile' we are, most of the mobile apps, responsive websites come with a poorly optimized interface. Designing for a mobile, it's not just about designing for a smaller screen. The environment is different where we use the device (e.g., at home or work versus on the way). The usage is different (mouse, keyboard versus touch). The time available to catch the users attention is different.
In my talk, I'll walk you through this differences and show practical examples of good and bad solutions for each aspect of mobile design.
Key takeaways:
Understand the differences between designing for mobile and designing for desktop
See good and bad examples for mobile UX.
Session topic level:
entry level
intermediate
advanced
Session career level:
entry level
managers
c-suite
Applicable Audience:
B2B/B2C/Non-profit
11:30–12:00
Break
12:00–13:00
On Building Chatbots
Georgi Varzonovtsev
Senior Principal UX at Progress Software
The talk is going to cover the story of creating a few chatbots and a platform for building chatbots. How do traditional usability best practices fit into this new UI paradigm? How do clients, developers and end users adapt and learn this new way to interact with computers?
13:00–14:00
Lunch
14:00–15:00
How Green Was My Delusion: The False Consensus Effect
Dean Schuster
Founder and partner of Truematter
Most websites, apps, and software are hard to use. Some are totally maddening. Why is that? Before you answer, let me tell a story about an awkward, feeble Valentine's Day gift I once gave my Fiancé. It sheds remarkable light on the problem of bad user experience. Really.
My story will warn you of the dangerous False Consensus Affect, which can ruin digital products before a single line of code is written. Heed my advice and you will avoid this trouble. Even better, you will forevermore give the BEST gifts.
15:00–16:00
Design Thinking for Designers
Merve Postalcioglu
Independent UX Consultant and Design Thinking Trainer
@mervepost
Design Thinking is a way to be creative and innovative for teams. By this methodology, non-designers know how to use designers' toolkit during their projects. Nowadays, it's popular around companies, that is creating digital products especially.So, will design thinking bring the end of designers in the teams? In this talk, you'll learn how does design thinking affect designers and how designers get advantages from design thinking. You'll dive deep into design thinking methods that help you to work with people in different professions.
16:00–16:30
Coffee
16:30–17:30
EthUX – the ethics of user experience
Eric Reiss
Partner at FatDUX
As technologists, we wield great power. And we have an ethical responsibility to use this power wisely. Alas, most people are confused by terms such as "morals" and "ethics." What is the difference? How can I apply this to my own work? With over three decades of experience in user experience, Eric has identified the "seven deadly sins" of UX which he wants to share with you – to make you a better UX designer and to help you build a better world.