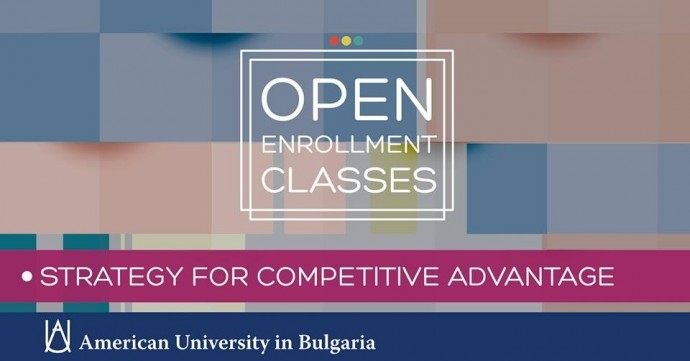 Дата:
5 - 6
юли 2019, петък - събота
Час:
18:00 - 16:45
Достъп:
Такса участие
Място:
Elieff Center for Education and Culture, София, ул. Университетски парк 1
За контакти:
Evelina Van Mensel,
E-Mail
За събитието
What: An open-enrollment course that allows you to take non-credit courses together with Executive MBA students at AUBG.
Where: Elieff Center for Education and Culture, Sofia
Who: Leaders, business professionals and decision-makers, AUBG alumni and friends, personal-growth seekers and management professionals.
…::: Overview :::…
While some strategies fail because they are poorly formulated, most strategic success can be achieved through disciplined, systematic and measured strategy execution.
Our elective course focuses on challenges and opportunities arising from strategy execution. Strategy execution is seen in numerous contexts: intra-organizational, interorganizational, eco-system and cross-border. The course bridges the gap between the formulation of strategy and performance outcomes.
While poorly formulated strategy leads to poor outcomes, ignoring the importance of execution can also lead to failure. Key topics include balanced scorecard formulation and strategy map building.
…::: Objectives :::…
By the end of the course, participants will
• Develop an understanding of the symbiotic relationship between strategy formulation and execution taking into account processes, actors and constraints involved.
• Develop the ability to incorporate quantitative and qualitative assessments of the impact of strategy on organizational performance
• Appreciate the salience of organizational culture on strategic execution
• Construct practices for developing high performance strategy execution across borders
• Introduce the importance of collaborative strategic execution including eco-systems
…::: About Prof. Akbar :::…
Dr. Yusaf H. Akbar is Associate Professor in Management at the Central European University Business School in Budapest, Hungary. With extensive teaching, research and consulting experience in emerging markets, currently engaged in consulting and executive education in Bulgaria, China, Hungary, Latvia, Lithuania, Morocco, Poland, Russia and Ukraine, he has recently completed Visiting Researcher positions at University of Trieste and the Wirtschaftsuniversiteit in Vienna. His consulting and professional references include bTV Bulgaria (division of Time-Warner), Citibank, Deutsche Telekom Telenor Globul, Siemens and Toyota. In addition, Yusaf has trained executives all over the world and across sectors: Stockholm School of Economics – FEM Leadership Program, WDI University of Michigan/SSE Riga – Strategic Management Program, Jeronimo Martins Polska (JMP) – Business Development Seminar, InBev Global Leadership Program – Senior Management from InBev's operations in Central and East Europe and Latin America, ETEX – International Business Strategy Seminar – Top management from Latin America, Europe and Asia, Raiffeisen Banking Academy – Strategy and Leadership Seminar, CIB Banca San Paolo – Controlling and Management, Morgan Stanley – Strategic Management .
He has published in peer-reviewed journals including Journal of Air Transport Management, Cross-Cultural Management, Journal of International Business and Entrepreneurship Development, Journal of World Business, Global Business and Organizational Excellence, Thunderbird International Business Review and World Competition. He has published two books the first entitled EU Enlargement and Central Europe: Regulatory Convergence and the Multinational Enterprise and another volume, Global Antitrust: Trade and Competition Linkages.
Program schedule
July 5 6 p.m. – 9:15 p.m.
July 6 9:15 a.m. – 4:45 p.m.
Regular price
250 Euro (VAT incl.)*
AUBG Alumni
180 EUR (VAT incl.)
*Corporate packages available. Please contact us at ExecEd@aubg.edu for a special package price if your company is sending more than three people.
If you have questions or would like to ask us for more information, please email us at ExecEd@aubg.edu or call at +359 2 | 960 7924|.