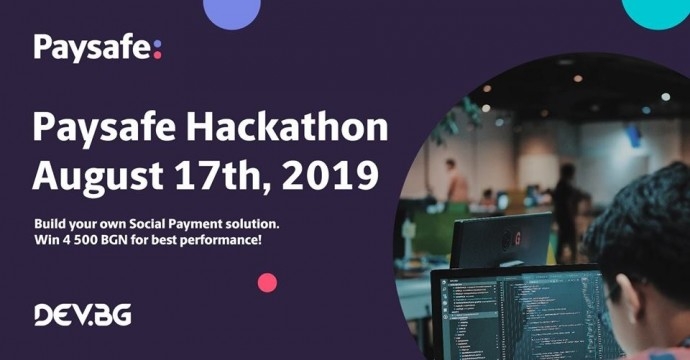 Дата:
17
август 2019, събота
Час:
09:00 - 21:00
Достъп:
Безплатно (Задължителна регистрация)
Място:
Capital Fort, София
За събитието
Paysafe Group and the largest IT community DEV.BG are organizing together a Hackathon and we will rock you!
It's free and open to all IT engineers with a passion for technology and coding. As a leading global provider of end-to-end payment solutions and a great community, we think it's time to let developers rule and build amazing projects together.
This year we have a special mission – Social Payments. The goal is to reinvent how people organize their personal finance and the way we split the bill.
So mark your calendars for August 17th, sign up and join us for the most creative 10 hours you'll spend this summer. Hacking will be held at Capital Fort, Sofia at 09:00 am, August 17th.
Here are the highlights:
Up to 20 teams can participate in the event. Maximum of 4 members per team are allowed and they should register together.
Each team should present their own unique idea that falls within the challenge above – Social Payments.
Ideas are subject to review.
All participants should bring their own laptop! You are also welcome to bring any peripherals, accessories or other materials that would help you and your good mood.
Because it's all open-source and dev-focused, the hackathon will live entirely on Github!
Please, prepare yourself, e.g. install everything you will need or prepare code scaffolding for your project.
Food and drinks will be provided.
Each team should present their own work and will have the opportunity to pitch for the great prize of BGN 4,500. The projects will be briefly presented to a team of judges who'll be grading them across these equally weighted categories:
Functionality: How well is your project functioning?
Creativity: Is your project creative and unique given other projects available?
Difficulty: How ambitious of a project was this to create?
Design: Is the UI intuitive and final project polished?
Business opportunity: Can your project become a beloved product for hundreds of users?
When time is up, be ready. You'll have only 5 minutes to present your solution. The cutoff time will be strictly enforced. Wow us and your team could be the winner. Designate one laptop as the presentation machine. Test the material on it before you present. Make sure you can connect the laptop to our projector ( FYI we support HDMI )