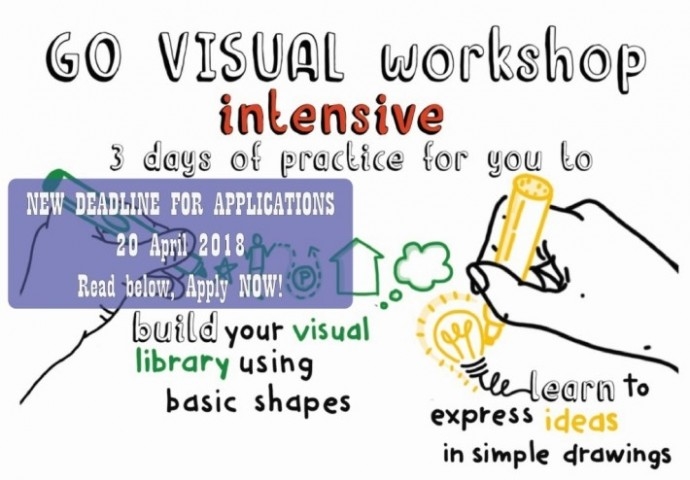 Дата:
3 - 5
май 2018, четвъртък - събота
Час:
09:45
Достъп:
Такса участие
Място:
Фондация Смокиня / Smokinya Foundation, София, 12 Nikola Mihaylov Str.
За събитието
Communication is unstoppable power.
Visual content is everywhere and it multiplies exponentially fast every day.
Trainers, Coaches, and Leaders of international multicultural teams struggle with:
– connecting with intercultural audience
– attracting and keeping attention
– creating meaningful learning context in fast paced company
WHO IS IT FOR?
For professionals and leaders who want to create impact within themselves, their teams and the working environments.
• Trainers, Coaches, Team leaders and managers
• Talent development experts and staff
• Visionaries and strategic planning leaders
• Visual Storytellers
This workshop is also for YOU to design and present ideas in simple, clear and convincing way – implementing and using graphic expression skills and drawing in your everyday life. And for people who want to boost creativity, clarity and presentation skills!
It is not about art, it is about insights, ideas, impact and ACTION.
We will combine effective visual thinking methods with on-spot coaching and practical tools to create visual practice immersion.
TRAINERS
Bianca Gainus is a graphic recorder and facilitator from Romania, with degrees and work experience in both Communication and Art.
She has delivered exciting visual experiences to companies and governments like Council of Europe and European Comission, Tuborg, Carrefour, Dubai Government, Dubai Financial Market, Ajuntamiento de Barcelona, Coca-Cola, Unilever, Ipsos Global Research, Romanian Ministry for Youth&Sports and many others.
By working in many enriching contexts like television, education, advertising, press, NGOs, Bianca polished her creativity and visual thinking muscles and for her the most important insight comes from working with children: we are all genuinely creative and express ourselves freely when our authenticity is nurtured. Encouraged children express visually and continue doing it while enjoying truly. Let us provide you with expertise, tools and support to explore again your playfulness.
Bianca facilitates visual thinking workshops and note-taking sessions for corporate teams, executives, trainers, helping them to enhance clarity, strategy skills, collaboration and change.
Bianca is a certified trainer with more than 10 years teaching. She is selected as a provider for graphic facilitation and recording for European Union – Council of Europe Youth Partnership.