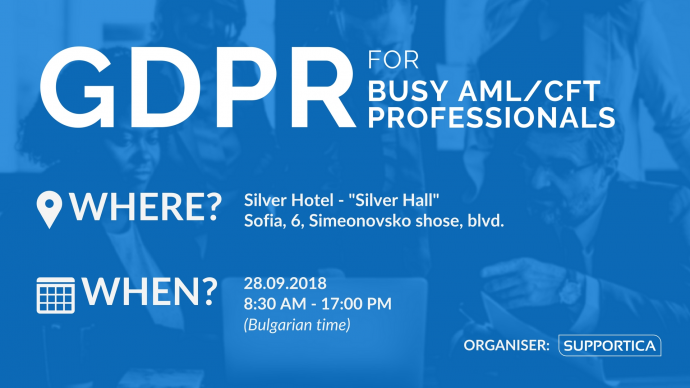 Дата:
28
септември 2018, петък
Час:
08:30 - 17:00
Достъп:
Такса участие
Място:
Silver Hotel, Silver Hall, София, бул. "Симеоновско шосе" №6
За контакти:
Виолина Анастасова, 0882 949 748 , 052 69 70 57,
E-Mail
За събитието
After years of preparation and planning, on 25 May the General Data Protection Regulation (GDPR) came into force across the European Union and EEA member states, with implications for individuals, financial institutions, businesses, non-profit organisations in the EEA and beyond.
This course aims to remove the confusion surrounding GDPR by providing practical guidance on how to reach compliance with both AML/KYC and GDPR requirements. We'll examine practical solutions for issues stemming from AML/CTF/KYC issues that overlap with GDPR through practical scenarios. Not only that, this course will focus on empowering attendees to understand key aspects of the GDPR such as definitions, principals and hypothesize in an easy to understand and practical manner.
Our presenters are experts in the field of Compliance, GDPR, AML, CFT and have been part of many conferences and webinars on the subject of GDPR.
Attending this course will enable you to:
• Gain a deeper insight into AML/CTF & KYC compliance and their associated issues.
• Obtain an up-to-date practical understanding and overview of the GDPR on its objectives, definitions and principles.
• Understand how the different stages of the due diligence/KYC procedures could be breached in light of the new requirements.
• Better recognise the practical implementations of GDPR on AML/CTF/KYC requirements.
• Understand how to update AML/CTF/KYC related policies, procedures and training that meets both the Fourth AML Directive and GDPR requirements.
• Gain insight into importance of having adequate supplier management policy from AML/ CTF/KYC and GDPR obligations.
Course registration pricing
The price of the course is € 200 (Early Bird Price until 30.08.2018) or € 250 (Normal Price until 27.09.2018) per participant. This includes the training, course materials, refreshment breaks and lunch. VAT will be added to the price upon registration. Please ask for a group discount via e-mail: info@supporticagroup.com
FAQs
Is the conference in English?
Yes, the presentation will be in English, because the course will be presented by Irish experts in the field. In addition, if you have any questions that you feel you can only ask in Bulgarian, there will be Bulgarian staff to translate for you. You will also have the opportunity to receive a summary of the presentation afterward if you miss any details.
How can I register?
1. You can buy a ticket from Eventbrite at www.supporticagroup.eventbrite.com. Keep in mind that they have a service fee as well.
2. You can email us at: info@supporticagroup.com and we'll provide you with an invoice containing the payment details. Once payment is received by us, you will receive email confirmation of your place for the conference.
How can I contact the organizer with any questions?
You can contact us via e-mail: info@supporticagroup.com
What's the refund policy?
Cancellations received in writing more than 30 days prior to the event are free of charge. For cancellations received in writing less than 30 days prior to the event, an administrative fee of 60 % + VAT will be charged.
Do I have to bring my ticket to the event?
Yes, attendees will be obligated to show a ticket upon entering. This can be done either by printing the ticket itself or showing proof of registration on an electronic device.
Will food be provided?
Yes, there are 2 Coffee breaks between sections of the course including snacks, additionally, there will be a 1 hour lunch period with a 4 set meal.
Is parking included?
Parking is not included in the ticket price. But the venue can provide you with a parking spot for a 3 lv./day fee.