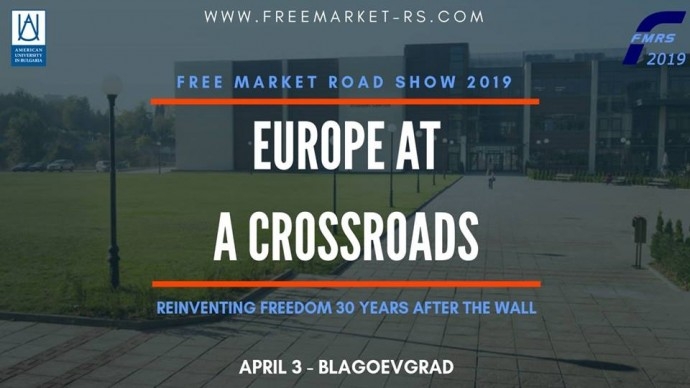 Дата:
3
април 2019, сряда
Час:
11:00 - 14:00
Достъп:
Свържете се с организаторите
Място:
American University in Bulgaria - AUBG, Благоевград
За събитието
The Austrian Economics Center (AEC), in cooperation with over 100 leading think-tanks and universities across Europe and the Caucasus, and in association with international partners such as the Global Philanthropic Trust, Friedrich Naumann Foundation for Freedom, Americans for Tax Reform, Competitive Enterprise Institute, World Taxpayers Associations, European Students for Liberty, and the F.A. v. Hayek Institut, are proud to present the 12th Annual Free Market Road Show, which tours 30 capitals during April and May in Europe and the Caucasus – from Scandinavia to the Balkans, from the Atlantic Ocean to the Black Sea.
The 2019 Free Market Road Show will bring together leading business people, outstanding scholars and students, opinion leaders, policy experts, elected officials, diplomats and other interested parties from across Europe to discuss openly core European values – a topic which has been missing in the recent political debates within Europe which have focused almost exclusively on the migration crisis. Recent political developments in Europe have seen a rise in the popularity and the parliamentary representation of political parties advocating the politics of populism, government largesse, nationalization of sectors of the economy, and the funding of unrealistically extravagant expansions of existing safety nets. It is the younger generation in particular who are embracing and driving this trend.
Schedule:
11:00 – 11:10 a.m. – Welcome
11:10 a.m. – 12:10 p.m. – Panel 1 – What is the proper role of government?
Moderator: Daniel Schwarz (AUBG)
Speakers:
Gloria Alvarez
John Chisholm
Diego Lucci (AUBG)
12:10 – 12:40 p.m. – Break
12:40 – 1:40 p.m. – Panel 2 – Is Europe a continent of freedom?
Moderator: Momtchil Karpouzanov (AUBG)
Speakers:
Magdalena Bernaciak (AUBG)
Jean Crombois (AUBG)
Federico Fernandez
Nima Sanandaij
Find more information at https://freemarket-rs.com/about/