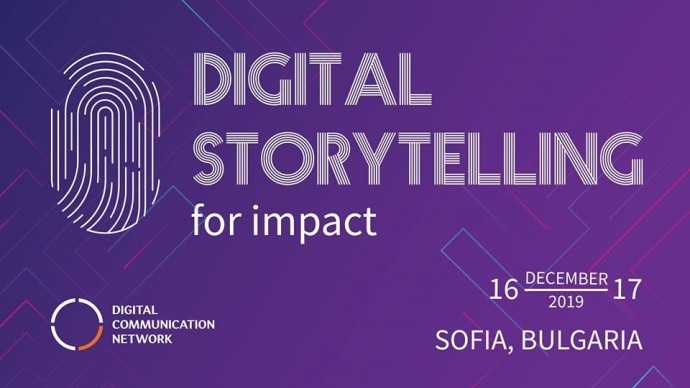 Дата:
16 - 17
Дек. 2019, понеделник - вторник
Час:
11:00 - 20:30
Достъп:
Безплатно (Задължителна регистрация)
За събитието
Digital communicators from four continents are coming to Sofia to discuss how new communication technologies are changing the way we tell stories and package content!
Stories are the oldest form of communication. Successful leaders in business, governments, politics, nonprofits, and philanthropy understand the power of storytelling, to educate and inspire people. We are exposed to and interact with an incredible amount of content every day. The basics of storytelling haven't changed, but the mediums through which we tell the stories have. How can people and organizations break through the noise and tell their stories effectively, via digital channels? How do storytellers adjust their techniques and stories to reflect the specificities of new tools and platforms?
Digital Storytelling for Impact is a two-day event which brings together representatives of civic organizations, politics, government and private sector, entrepreneurs, as well as new media, content creators, designers, and developers for a forum exploring how media adjusts content and its delivery in the new and complex information map.
The Forum will address several issues, meant to help achieving influence:
• Impactful Digital Storytelling in Social Media: Instagram, Facebook, Twitter, LinkedIn
• Changing Journalistic Narratives in the Digital Age
• Digital Storytelling Tools for Impact
• Making Complicated Content Become Accessible
• Original Content, User-Generated Content, Interaction with Audiences
• Respect for Facts and Ethics while Designing Stories with Purpose and Emotion
• Documentary Storytelling
• Storytelling with Data, Making Data Compelling
• Brand Storytelling on Social Media
• Use of Humor to Create Powerful Narratives
• Gaming and Gamification: Maximizing Story Interactivity
• VR, AI and what the Future of Technology Holds for Storytellers
• Becoming A Changemaker
All discussions will be in English.
Venue: Hilton Hotel, Sofia
Free Admission
This forum is sponsored by the U.S. Department of State Office of Citizen Exchanges and organized by the Digital Communication Network (DCN) and World Learning.