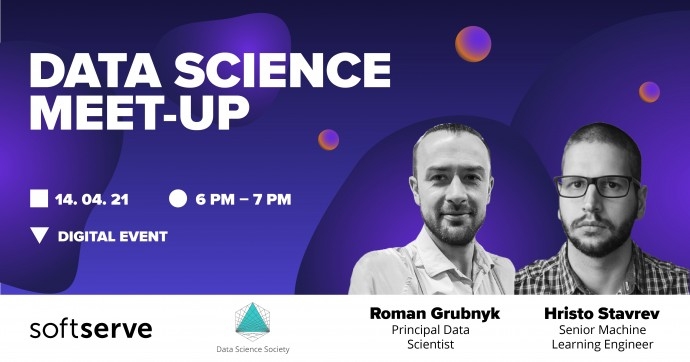 Дата:
14
април 2021, сряда
Час:
18:00 - 19:00
Достъп:
Безплатно (Задължителна регистрация)
Място:
Online
За контакти:
Boryana Dzhoneva,
E-Mail
За събитието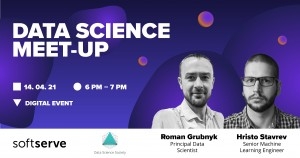 SoftServe together with the Data Science Society are happy to invite you to a Data Science Meet-up.
Once available only to scientists, today machine learning (ML) is open to a much broader audience of software architects and engineers. We will be glad to see everyone who is interested in the topic.
Our speakers are leaders in the Data Science direction at SoftServe. Join us and meet Roman Grubnyk, Principal Data Scientist and Hristo Stavrev, Senior Machine Learning Engineer to discuss the best practices in the field.
Meet-up is organized around one simple idea: when people get together and do the things that matter to them, they are at their best. And that's what Meet-up does. It brings people together to do, explore, teach, and learn the things that help them grow.
Agenda:
Welcome – Sergi Sergiev, Data Science
Society, Community Leader
Session 1: Data Science Practice at SoftServe – Roman Grubnyk, Principal Data Scientist at SoftServe
Description: No secret that market's perception of what Data Scientist is capable of is pretty broad and changes over time. In this talk we will cover general info about Data Science Group (DSG), its role, recent achievements and mission. We will go over latest trends we see on the market and how DSG reacts. Few public case studies, where DSG played critical role, will be presented.
Session 2: MLOps: From experiment to production – Hristo Stavrev, Senior Machine Learning Engineer at SoftServe
Description: Are you head deep into ML projects? And perhaps your models are scoring great offline, but do they fare in the wild, how about a year from now? Taking an ML solution to production can be a challenging task, and keeping the model performing well over extended periods of time can sometimes be even harder.
• What is the lifecycle of your ML project?
• How to take control of this lifecycle and make it efficient?
• How to ensure the quality of your data and models over time and not disappoint your users?
• How to automate the parts of the
ML process and give you and your ML team more freedom and flexibility?
MLOps is the set of practices that enable you to streamline your organization's ML processes, improve traceability of models' evolution, and allow the most efficient use of your time and the ML infrastructure.
Q&A
*The event will be in English
*The event is free
*Register here:
https://app.softserveinc.com/…/en/data-science-meet-up-2
See you there!