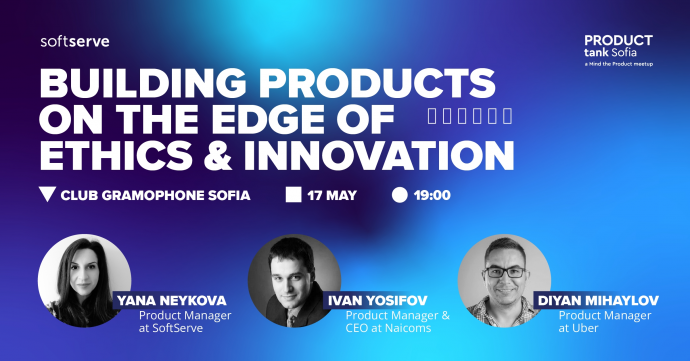 Час:
19:00 - 21:30
Достъп:
Безплатно (Задължителна регистрация)
Място:
Gramophone Club Sofia, София, Budapeshta Street 6, 1000 Sofia Center, Sofia
За контакти:
Dimitar Sivkov, 0886880697,
E-Mail
За събитието
We're excited to invite you to our next meetup, a unique event where we'll dive deep into the ethical aspects of creating and managing digital products in a fast-paced world. We've got an amazing lineup of industry professionals who will share their insights, experiences, and even some of their top-secret tips.
But it's not just about the experts – we want to hear from you, too! So, get ready to ask those burning questions, and share your own unique perspectives.
Don't miss this great opportunity to connect, learn, and talk product over a drink. And don't forget to bring a friend!
About our speakers
Yana Neykova is a product manager with 7+ years of experience in business analysis and leading product development in various domains. For the past almost 2 years she has been part of a team of great experts at CoE@ SoftServe. She is passionate about new market trends, AI and Big Data. Since she believes that learning is a never-ending curve, she is always looking for new opportunities and challenges.
Ivan Yosifov is a visionary IT entrepreneur with extensive experience in developing innovative products and product management activities for more than 19 years. His understanding of the constantly evolving tech landscape and his keen eye for spotting new trends and technologies has made him a great business consultant and mentor in the last 5 years. Ivan's ability to think outside the box and push boundaries has earned him a reputation as a true innovator, and his commitment to helping others succeed has made him a valuable partner.
Diyan (Diddo) Mihaylov is an accomplished product leader, passionate about B2B, with a strong customer focus that dates back to his initial foray into product management in 2014. Diddo has demonstrated a proven track record of success in his career at startups and rapidly expanding companies. He has expertly recruited and mentored product managers, elevating them to higher roles, and effectively improved product operations within remote-first and distributed teams. His strategic approach to product management has also led to significant revenue increases. Apart from his professional roles, Diddo has made significant contributions to the product management community in Bulgaria as a co-founder of Product Tank Sofia, currently boasting around 2500 members. Diddo also publishes the No BS, just Product newsletter