ACCA Diploma in IFRS (DipIFR) Face-to-Face Preparation Courses at PwC's Academy Bulgaria
Приключило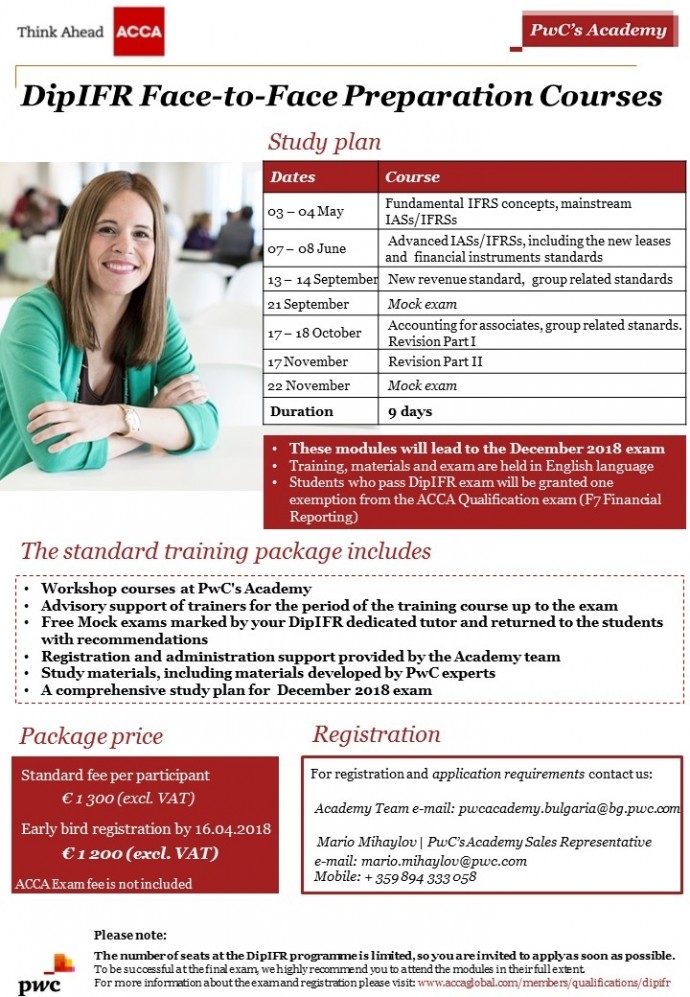 Дата:
3
май -
22
Ное. 2018, четвъртък - четвъртък
Час:
09:00 - 17:00
Достъп:
Такса участие
Място:
PwC's Academy Bulgaria, 7, София, бул. Княгиня Мария Луиза 9-11
За контакти:
Mario Mihaylov - PwC Academy Sales Representative, +359 894 333 058 ,
E-Mail
За събитието
What is ACCA Diploma in IFRS (DipIFR)?
ACCA Diploma in IFRS (DipIFR) is an international qualification in International Financial Reporting Standards, developed by the leading professional accounting organization – Association of Chartered Certified Accountants (ACCA). Obtaining this qualification will raise your professionalism in IFRS to the next level.
Why ACCA DipIFR?
IFRS is a major issue for most companies and finance professionals. Over 90% of the world's leading economies either require IFRS or are converging with it, so few companies can afford to ignore the need for their staff to understand IFRS and its implications for their business and financial reporting.
Who is the DipIFR for?
This programme is intended for professionals working in accounting, audit and finance who want to gain an internationally recognized qualification in International Financial Reporting and broaden their knowledge of the theoretical and practical aspects of IFRS.
To be eligible to take the Diploma you should provide evidence for:
three years' relevant accounting experience (by submitting a letter from your employer), or
a relevant degree plus two years' work experience
an ACCA Certificate in International Financial Reporting plus two years' work experience.
What will you gain?
Deep knowledge and understanding of the main principles of IFRS
IFRS reporting skills including the consolidation of financial statements
Practical application of IFRS
Practical experience with preparing IFRS financial statements
A combination of lectures, discussions and examples
Why study with PwC's Academy?
PwC has extensive experience in providing IFRS services and trainings. Our tutors are ACCA certified specialists, experienced in the practical application of IFRS and are ACCA certified specialists. Furthermore we provide you with materials designed by PwC experts with proven experience in important topics.
PwC's Academy provides you with regular support and attention of the trainer and close control over the learning process during the whole training period.
Our tutors are experienced in teaching as well as experts in IFRS, they will provide you with practical examples and implications to your practice.