3 Day Seminar on Data Protection Officer DPO Training and Certification Seminar
Приключило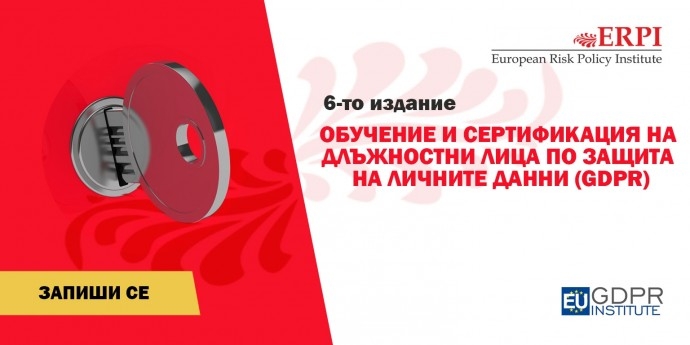 Дата:
18 - 20
сеп. 2018, вторник - четвъртък
Час:
08:30 - 16:30
Достъп:
Такса участие
Място:
Silver House Hotel, София, бул. "Симеоновско шосе" 6
За събитието
От 18 до 20 септември EUGDPR Institute и Еuropean Risk Policy Institute ще проведат две обучения в София за GDPR – Общия Регламент за защита на данните на Европейския съюз, в сила от 25 май 2018.
На 18 септември ще се проведе еднодневен интензивен курс и сертификация по основи и приложение на GDPR, от 18 до 20 септември ще се проведе задълбочен курс и сертификация за ДЛЗД – длъжностни лица по защита на данните.
Who should attend this course?
DPOs, CIOs/CTOs
Internal Audit Managers and Staff
CISO
IT Security Officers
Information Security Managers
IT Directors and Managers
IT Analysts/IT Auditors
IT and Data Consultants and project managers involved in data protection, information security or cyber security issues
IT and Data Consultants and project managers that participate in GDPR projects.
Individuals with some IT experience who want to qualify on GDPR issues.
GDPR course is conducted in English. The practical implementation examples, experiences and best practices will be from global companies.
The course includes:
Professional training venue with breakfast, lunch and refreshments.
Comprehensive documentation (as digital copy. PDF file optional).
A chronological summary of all GDPR articles with an explanation on each article to ensure the right understanding of the articles in question during implementation
The Copenhagen Compliance® GDPR Roadmap and Framework
EU GDPR Foundation, Application & Substance Exam (EU GDPR FAS)
Data Protection Officer (DPO) Training and Certification Seminar
Certified Expert Practitioner (CEP) Component of 4-Day GDPR Foundation, DPO and Professional Seminar
Certificate of attendance
OBJECTIVE
During the training, we will examine together topical IT and personal data issues related to the implementation of the European regulation and how you can help companies develop a security and privacy strategy. The training will be based on the EUGDPR Institute GDPR Training Model, which identifies the significant effects of implementing the Regulation and examines the key areas of action, such as development phases and approval frameworks.
CERTIFICATION
Training GDPR FAS / Foundation, Appendix, Content / will provide you with:
A comprehensive review of the new European regulation, with a practical understanding of the implications and legal requirements for organizations of all sizes.
Additional focus on practical application (Basis) and material content of the clauses of the Regulation, including scope, approach, structure, mapping of data flows to ensure sustainable compliance (Appendix and Content).
Obtaining a Qualification Certificate from the EU GDPR Institute on the Requirements of the Regulation – Basis, Application, Content / EU GDPR Foundation, Application & Substance.
Registration in the EUGDPR Institute database.