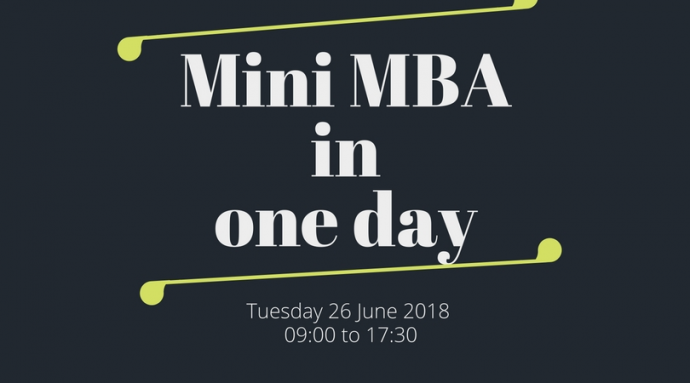 Дата:
26
юни 2018, вторник
Час:
09:00 - 05:30
Достъп:
Такса участие
Място:
София, София
За събитието
Tuesday 26 June 2018 09:00 to 17:30
 
BBBA and IHR in partnership with the London School of Business & Finance (LSBF) would like to invite you to our first joint one-day Mini MBA workshop.
 
Introduction
Many managers achieve their role through expertise in their specialty, yet management requires understanding of a broad range of subjects and skills. This workshop provides an introduction to that broad range of management subjects and will give delegates the skills and confidence to contribute effectively to wide ranging management discussions and decisions. A comprehensive 1-day event that addresses management of individuals, leadership of teams, financial management, business strategy and management of change.
Learning Objectives
By the end of the event, delegates should be able to:
Apply the Four Keys to performance
Understand psychological frames of reference (Logic Bubbles…)
Recognise effective leadership behaviours
Analyse key financial statements; Understand and manage business finance
Recognise challenges with planning and controlling of budgets
Understand the Marketing context
Analyse external and internal business environments to generate business options
Discuss growth strategies
Inspire innovative thinking
Define and selling change – manage human responses to change
Tutor – Tim O'Connor 
Tim has spent over thirty five years helping people develop their skills as managers and leaders and working with organisations to improve their business performance. He has established, led and sold several companies working in the field of education and development while also working as a visiting lecturer on MBA and Leadership programmes at Lancaster, Warwick, Birmingham and Exeter Universities.  Tim's work has taken him to India, Africa, the Middle East, Far East and all over Western and Eastern Europe. He enjoys working with all levels of management from supervisors to chief executives.
Courtesy to LSBF, the event is free of charge for all BBBA members, and costs 50 lv. without VAT (60 lv. with VAT) for non-members.