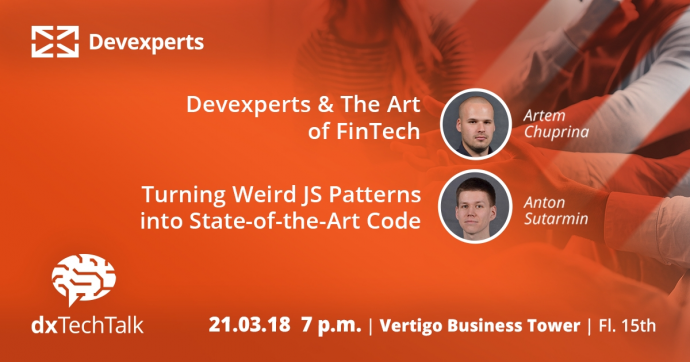 Дата:
21
март 2019, четвъртък
Час:
19:00 - 21:30
Достъп:
Безплатно (Задължителна регистрация)
Място:
Vertigo Business Tower , 15-ти етаж, Vertigo Business Tower , София, 1404, София, бул. България №109
За контакти:
Sofia Lyateva,
E-Mail
За събитието
dx TechTalk is a series of events for the never-ending curiosity of developers and IT enthusiasts. If talking about FinTech, developing software solutions for the capital markets and/or simply getting in touch with like-minded people in an informal setting is your thing, then you are more than welcome to our newfound Devexperts community! :)
Our first event in Sofia will happen on March 21st @ 7:00 PM at our lovely office situated in Vertigo Business Tower, Floor 15th
In the opening part, Viktor Andonov, CEO & Country Director at Devexperts will officially open the very first #dxTechTalk community event.
"Devexperts & the Art of FinTech"
How much do you know about the FinTech industry and the various software solutions you can develop?
Viktor will pass the torch to Artem Chuprina, one of our star PMs who will explain Fintech in the simplest terms and also share a few words about Devexperts and our technological stack.
"Turning weird JS patterns into state-of-the-art code"
For our first #dxTechTalk chapter, we've also invited one of our most passionate Front-end developers – Anton Sutarmin who will tell us more about Algebraic Data Types (ADTs) and their interesting concept from functional programming. Anton will show some cases when ADTs can help us turn weird but common JS patterns into a more beautiful and safer code with examples in Typescript.
About the speakers:
Artem Chuprina, Project Manager @ Devexperts
Previously worked at Spotware Systems, another financial software provider, several e-commerce (online retail) and digital health companies. His combined background of fundamental financial education and experience in software development helps him explain FinTech in the simplest terms. He is passionate about football & volleyball and loves taking road trips with his family.
Anton Sutarmin, Front-end Developer @ Devexperts
3 years in commercial front-end development, passionate about frontend development since high school. Currently interested in Typescript, functional and reactive programming and making beautiful code and interfaces. Anton is also passionate about various sports and travelling.
Join us on this new endeavour of ours and learn more about the Art of Fintech.  The event is free but registrations are mandatory.
Registration link:
https://goo.gl/forms/il0w3nlGN7cp4XPj1
Facebook event:
https://www.facebook.com/events/653886371734010/ 
Join our community on Meetup and be up-to-date about our future events: https://www.meetup.com/dx-TechTalk/